My First Opus Tile
My incredibly talented Interior Designing Mother-in-Law had asked me to create a larger piece of Zentangle art for display in her gorgeous home. I have tangled for years and yet, I was a bit apprehensive about the idea of creating for the large 10-1/2″ square Zentangle Opus Tile format. I have made a couple of 9-tile ensembles in the past and had a lot of fun creating those, so I figured I'd give it a try. I ordered 5 Opus Tiles from Zentangle headquarters.
The tiles arrived quickly and I excitedly opened the package. The Opus tiles were well protected in a glassine bag and were carefully enclosed between two larger pieces of paper board to prevent damage.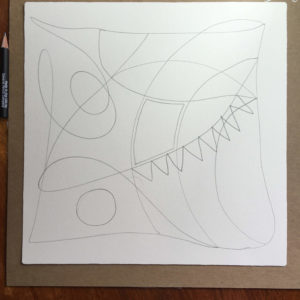 I hesitated to begin with the tiles for a couple of weeks and practiced with ideas for Strings on the original 3-1/2″ square Zentangle Tiles instead. Honestly practicing strings did not help at all.  Strings are a spontaneous thing for me. So I took my first Opus Tile out of its wrapper, grabbed a Zentangle pencil and just went for it. I did not draw a frame, instead I incorporated the string as part of the frame. I think the result is wonderful.
The string seems to use the tile space well, has nice flow, and it is proportional to the size of the tile. Whew! Part of the beauty of Zentangle, is being spontaneous and that really has its advantages. No pre-planning is needed, or even desired. Looking back, I now think I wasted time by trying to pre-plan my string.
I added a Dew Drop Tanglenhancer in the lower left corner of the tile. I like pushing myself and have only attempted the Dew Drop half a dozen times or so. I will be using Lynn Mead's simple method of drawing Dew Drop from her Tangle Deck Techniques booklet. For more info on Tangle Deck 1 check out my recent review.
That's it for now. Look for  part two of this posting to see how the tile progress with tangles and to read my thoughts and suggestions on the process. If you haven't tried the Opus tiles, I have some advice. Just go for it and keep your tangles large. You will be glad you did! I am!
In the meantime, keep tangling!
Next Article in this Series
Be sure to read Part 2 of my experience with Opus.