I have come up with a new Zentangle Pattern, it is a 3-D, grid based tangle. When I was developing the tangle I never imagined something so simple could "Be so entwined!" I took that phrase and came up with the abbreviation B'Twined for it's name. It only uses just 2 strokes – a straight line and a parenthesis stroke – yet the resulting tangle looks very complex.
It does take a bit of practice to get it down.  I highly recommend initially practicing  B'Twined with straight lines and drawing it on a huge grid makes it easy to learn and results in a nice lattice pattern tangleation. Once you learn it, then you can switch over to using the parenthesis strokes and you can also reduce it's size because it scales down quite nicely. So here you go… read on for all the details.
Linda Farmer, CZT from TanglePatterns.com says:
B'Twined is today's very cool tangle pattern and it's from CZT Pegi Schargel of Portland, OR. This is her first tangle on the site… B'Twined is one of those 3D "over-under" tangles that are so visually interesting and it's a super simple tangle to draw.
Welcome to all my friends from tanglepatterns.com! If you like this post, be sure to checkout the rest of my blog and sign-up for my newsletter with instant blog post updates to your inbox.
Click on this image to see it in its full glory!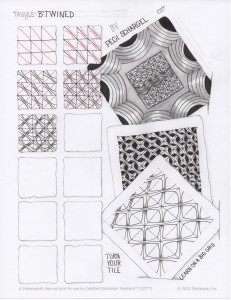 After you've played around with it a bit, be sure to checkout my blog post for tips and tricks for this tangle. What do you think? Leave a comment!