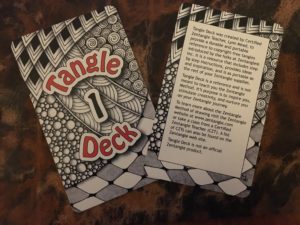 Tangle Deck 1 is the brainchild of Lynn Mead, a Certified Zentangle® Teacher (CZT), from Monroe, WA. All CZTs attend extensive training in Providence, RI and are personally instructed by the founders of Zentangle, Maria Thomas and Rick Roberts. This review assumes that you are familiar with the Zentangle Method and the associated terminology.
Have you ever tried to draw your own reference Tangles and Step-outs on tiles? I have and I could never get enough info on the front of the 3-1/2″ tile. Lynn takes care of that problem elegantly!
Tangle Deck 1 – What Is It?
Lynn has created Tangle Deck 1 to be a reference for named, non-copyrighted, repetitive images as introduced by Zentangle Inc. and as a wonderful source of inspiration for people who draw using the Zentangle Method.
The portable paperboard boxed set consists of fifty-four beautifully illustrated, coated large 3-1/2" by 5-3/4" cards, and an accompanying flat-lying, thirty-five page spiral bound booklet titled Tangle Deck Techniques. Fifty-two of the cards have easy to learn, copyright-free Tangles directly from Zentangle Headquarters.

Tangle Deck 1 is unique in that the face of each card graphically depicts the highlighted elemental stroke(s) used to create the tangle in focus, the Tangle step-outs, and some have valuable tips.
The back of the cards is typically a monotangle drawing incorporating tanglenhancers and tangleations. This card deck is sure to get your creative juices flowing!
Th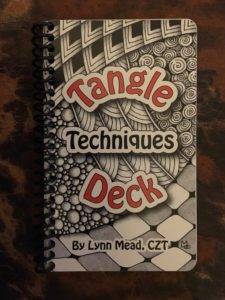 e Tangle Deck Techniques booklet is full of helpful information: A section about Zentangle itself, its' terminology, the materials used to create tiles, illustrated steps showing the Zentangle Method steps, information about using Tangle Deck 1, technique exploration of the six tanglenhancers, and wonderful information on creating tangleations. Lynn includes her own Dew Drop drawing method with simple, clear, and concise instructions. At the end of the booklet, Lynn provides twelve Exploration Exercises to help guide you further on your Zentangle journey.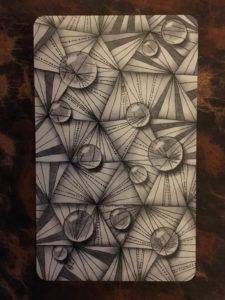 I have been using the deck for several months and find it and the booklet are quite durable. I often will shuffle the deck and randomly select several of the cards to incorporate into my current tile in progress. I will also use the tangleations and/or enhancement ideas as a springboard for a new tangleation of my own, not just from the card selected, but also from other cards. I also like incorporating some of the strings from the back of the card to use with other Tangles. I own other Zentangle based card decks, and I heartily recommend this deck as my number one easily portable go to resource.
I very much look forward to the Tangle Deck 2 that Lynn will be offering in the late spring 2016!
The Tangle Deck 1 package is $35, Priority Flat Rate shipping is $7.75 and is self-published by Meadowmead Studios LLC of Monroe, WA, 98272 USA. Additional International shipping fees are the responsibility of the purchaser. Purchases can be made directly on Lynn's website A Tangler's Mind.