This is the 2nd part of a series. Be sure to see Zentangle Opus: My First Experience – Part 1 here!
Zentangle Opus Tile Part 2
After having drawn a wonderful string on my Opus Tile, I tangle Crescent Moon. It's a standard tangle that I often use.  I also teach it to all students in my Do More Art Zentangle Basics and Introduction to Zentangle classes at Portland Community College. I decide to give crescent moon a prominent place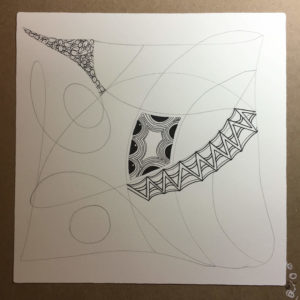 on the tile, front and center. I decide to draw it  large and gave it 7 crescents so that it would not look too crowded. I decide to leave the center as white space to shade later. If I don't like that, I know I can always fill it with solid black ink, or add the Tipple pattern. I think to myself that it looks naked sitting there on the tile. For a moment I fear that the scale is inappropriately large for the tile size. No worries, just tangle on and see what happens! 🙂
Continuing on, I decide to add one of my favorite tangles, a Twing tangleation, to the zig-zag part of the string. Then I draw New Life for the first time, it is a new-to-me tangle from Beckah Krahula's newest book, Tangle Journey: Exploring the Far Reaches of Tangle Drawing, from Simple Strokes to Color and Mixed Media
.. New Life reminds me of Flux. I think that I've tangled New Life too small, but I know from experience that this kind of self-talk does me no good and that it always works out just the way it should. I center myself and breathe. I notice that I am getting excited about actually working with the tile. I like it's size and I see that tangling large is very easy to do!
One of the tips I share with students is to label tangle names in the corresponding space on the back of the tile.
I continue tangling adding Purk, of course, I have  to add Opus with a Tipple fill since this is an Opus Tile! I add a Flux tangleation with rounding. I do not usually do Flux like this. In this tangleation, I have used Flux infurled upon itself like the original Mooka pod and placed it inside a Flux-like shape.
I drew Jetties in the lower left corner with space for a huge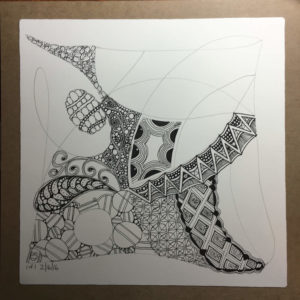 Dew Drop! I need Dew Drop practice and there is no time for that like now. I also add a Vega tangleation that I am honestly not too thrilled with. Then I add in my tangle, B'Twined near the bottom right. (If you click the B'Twined link, you will see the step-outs in my blog posting. Note that to see the step-out photo clearly you will need to click on it separately. I also have posted B'Twined Tips in my blog.)
So far the tile is looking pretty nice.  There are some odd shapes to work with like one large narrow loop in the area around the egg-shaped Purk tangle. I don't worry about it and just tangle on. I am starting to think I just am able to finish inking this entire tile in just one day.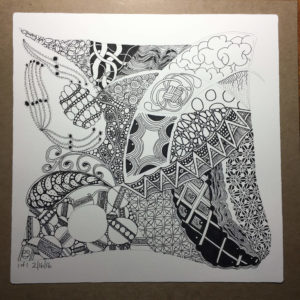 I decide to fill part of the Vega tangleation in solid black to give the lower edge of the tile some anchoring. I use Diva Dance like an aura around Vega on the lower right side.
I have love the Tripoli tangle and found a nice strip in the string to insert it at the lower right edge of the tile. I know an easy way to create Tripoli that I learned at my Certified Zentangle Training in Providence, RI. I get into a wonderful rhythm when tangling Tripoli and just adore how it turns out.
For the upper edge of the tile, I tangle the first tangle I ever learned – Hollibaugh and decide to use curvy mixed thin and wide lines. I filled the background solidly to help counter balance the blackness in Vega. Next was an easy decision, I choose Printemps in a nice triangular space. Once I complete Printemps, I decide I need to try some more new-to-me tangles. I attempted to tangle Wud by Judy Feddersen and think it came out fair for a first try. I added highlights to the crest of the 'wood' grain. The way I tangled Wud reminds me of Diva Dance.
The next new tangle I chose is another by Beckah Krahula titled Protection. It is reminiscent of a cloud formation – something we are very familiar with here in the Pacific Northwest. I put Msst below Protection as it seems fitting to do so. Next I chose Pop again by Beckah and then to the left of Pop, I tangled Mak-Rah-Me by Shelley Beauch AKA Michele Beauchamp, CZT.
Ah! One space left to tangle. It's been 14 hours of nonstop tangling and I go with another favorite'NZeppel. I enjoy shading 'NZeppel alot and figure I had enough new tangles for one piece of art. I returned to Jetties in the lower left and tangled the stripes on the globes. The last addition I made was to go back over the tile and added some weighted lines to some of the tangles, do some ink shading on B'Twined and cleaned up a few lines. The inked tile is complete.