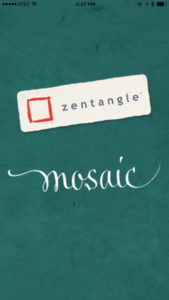 A Zentangle Mosaic Review of Zentangle Software for iPhone and Android
Looking for the Software for your Phone?
Grab the software and come right back for my multiple-part review with tips, tricks, and techniques for using Zentangle Mosaic!
Part 1: Zentangle Mosaic Brief Overview
The English version of Zentangle Mosaic 1.0 has just been released by Zentangle Books & Creations! It is a cool, new, first of it's kind inspirational World-wide Tangler's viewer and sharing app (with a social media approach). Think of Zentangle Mosaic as a window to the global Zentangle community that you can peek into or become a part of any time you want. Zentangle Mosaic is currently available for the Android and iPhone platforms. There are two distinct versions of the app: there is the feature-limited Free Version viewer and, when activated, it turns into the more feature filled Subscription Version. For either functionality, you start by downloading the Free Version. This Zentangle Mosaic Review is done on an iPhone 6S and a 6S+.
Read on for my initial thoughts…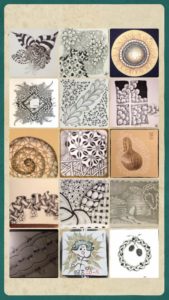 The Free Version of Zentangle Mosaic, which I call the Viewer has the Zentangle Waterfall option which is an ever-changing display of tiles and ZIAs from the international Zentangle community that were uploaded by people using the full subscription version. The Viewer also includes a Search function that allows you to search for Zentangle art by either All Tiles or by Author. The search string you enter can be either text or a hashtag. I'll get more into on searching and hashtag later in a separate part of this review.
The full version is available via in-app purchase for either an auto-renewing 30 day monthly subscription at $2.99, or an annual subscription service for $24.99 a year. That's less than a single monthly cup of specialty coffee! I opted for the annual subscription because I know I will likely be using this app for years to come because I am a CZT (Certified Zentangle Teacher) and I need a public as well as private place to organize my tiles. Come back to learn more about the Subscription version of the Zentangle Mosaic software in a different blog post.
Viewer Pro's:
It's an interesting and inspiring application offering an easy new portable way to visually learn more about Zentangle Tiles, ZIA's and journal entries that others are creating in the global Zentangle community and it's a great way to search free for these items.
Why Use the Free Zentangle Mosaic Viewer?
It doesn't cost anything to look around or search
To see what other's in the World Wide Zentangle community are creating via Search or via Zentangle Waterfall
As a source of inspiration and ideas for your own ZIAs (Zentangle Inspired Art) or Zentangle art
If you apply what learn by using the Viewer, you can grow as a Zentangle artist!
To get a little taste of what the subscription app is about
Viewer Con's:
The free Viewer is, of course, very limited in functionality
You don't get to participate in the apps sharing and social media aspect
An In-App Upgrade to the Full Subscription Version reminder screen shows every time you try to use a Zentangle Mosaic Subscription feature
I subscribed soon after downloading Zentangle Mosaic, but I can see how the Viewer could become a bit irritating until you get used to only using it's limited free feature set. As far as I can tell, as long as you only use the Viewer and basic search functions, I don't think that you will be reminded that the upgrade is even available.
Where to get the Zentangle Mosaic software
Since it's free, why not get started today? Here's some direct links to the software.
Be sure to sign up to receive updates to this Blog and come back for more!
Poll: Are You Using the Software?
(Note: This poll was reset in April 2020, Feel free to vote again!)
There's More!
Here are other Posts about Zentangle Mosiac…