Zentangle Bijou Part 2 of 2
There are currently 24 Bijouisms.
Zentangle Bijou seems to be a hit! The Bijouism's are darling! They relate to the Zentangle Method for the most part. To learn more about these, just go to Bijou's Bijouisms page and check it out!
The list of Bijouisms so far is as follows:
1     No mistakes
2     Inspire
3     Comfort
4     Come out of your shell
5     Savor
6     Discover
7     Trust
8     Create
9     Be present
10     Enjoy
11     The string's the thing
12     Choose your tangles
13     Appreciate
14     Deconstruct
15     Deliberate strokes
16     Beautiful and beyond
17     Admire
18     Focus
19     Reflect
20     Embellish
21     Breathe
22     Slow down
23     Enjoy the shade
24     Relax
Another Bijou Product Introduced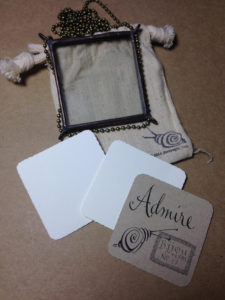 A wonderful new product is the $29 Bijou Frame, handmade by the same frame manufacturer that designed the custom leaded glass frames for the standard 3-1/2" square Zentangle Tiles. The Bijou frame comes with a shot bead chain for hanging, a Bijouism and a blank Bijou tile or two.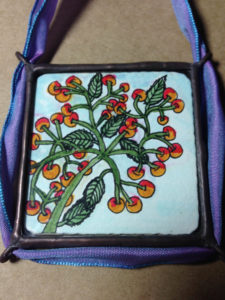 Mine was nicely wrapped in a muslin or cotton gift bag. At the seminar, staff were sporting the new Bijou Frames as pendants that looked wonderful! Then it was brought to our attention that lead-solder used to join the segments together. So off came the pendants due to the lead. I have found a link about lead jewelry on the Center for Disease Control's website. The Bijou Frame is not lead jewelry, it just contains lead solder! The bottom line is that, "If swallowed or put in the mouth, lead jewelry is hazardous to children…" Knowing this, I will wear the Bijou Frame as a pendant. Only a small amount of lead solder is used. I promise, I will not be putting it into my mouth. 😉

Bijou Frame Pros
•     You can change the look of the Frame by changing out the tiles.
•     If worn as a pendant, you will never be bored with this piece of chunky jewelry!
•     A lovely way to display your Bijou tiles on the wall.
•     A fantastic gift with your original art.
•     You can put tiles back to back to change the look of the frame instantly.
Bijou Frame Cons
The lead solder in the Bijou glass frame may be a concern for some
The included shot bead chain does not match the frame color
The included shot bead chain would need to be shortened to wear as a pendant, consider using a velvet ribbon, black leather strip or cotton twine instead of the bead chain.
Summary
I really like these tiles, the frame, the videos and the new logo, Bijou is fantastic! I picked up four tins and a frame at the CZT Training in June. I wish I had room in my luggage for more. As it was, I filled almost half of my salmon colored 20" suitcase with official Zentangle products. I was really considering shipping my laundry home and buying more Bijou Tiles – yes the tiles are that adorable! Since the CZT Training in June, I have ordered 4 more tins! Personally Bijou is definitely for me! What do you think?
Did you miss part 1 of my  Zentangle Bijou Review including the Pros/Cons at https://domoreart.com/zentangle-bijou-part-1/
Cheers!
Pegi Schargel, CZT
Portland, OR, and the Chehalis, WA areas…
DoMoreArt.com