I am a Certified Zentangle Teacher. I instruct large groups, small intimate classes, and private Zentangle classes in the Portland, OR Metropolitan area. I offer both Basic and Advanced Zentangle classes. I am also available in the Chehalis, WA area. I am authorized to properly teach The Zentangle Method, and to sell Official Zentangle products. Please contact me if you have interest in classes or information not available on this website.
Certified Zentangle Teacher
This is what Rick and Maria have to say about Certified Zentangle Teachers on their website…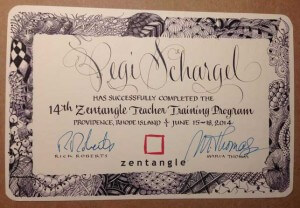 We encourage you to take a class from a Certified Zentangle Teacher (CZT). It is a special experience. Everyone on this page has been personally taught by Rick and Maria. They understand how to guide and coach you as you learn, explore and practice the Zentangle Method and Artform.
For more information on individual CZTs, click on that CZT's name. If there is no email listed next to a CZT, that CZT is not currently available for public Zentangle workshops.
Sharing and Teaching Zentangle's Method (The legalese of Zentangle).
Zentangle's teaching materials are subject to copyright owned by Zentangle. We have a patent pending on our teaching method. We train and certify individuals to teach our Zentangle Method. They are called Certified Zentangle Teachers (CZT). They are trained in the background and subtleties of the Zentangle Method which are not obvious or clearly understood from free material on the web. CZTs are provided with ongoing support in furtherance of their abilities to represent and teach the Zentangle Method. CZTs are authorized resellers of Zentangle products. "Certified Zentangle Teacher" and "CZT" are our trademarks and may not be used by an individual in the context of purporting to have a specific certification, specialization or as a descriptor of a professional credential, unless that person has successfully completed one of our CZT training seminars and remains in good standing. The Zentangle Method is an easy-to-learn, relaxing, and fun way to create beautiful images by drawing structured patterns. It was created by Rick Roberts and Maria Thomas. "Zentangle" is a registered trademark of Zentangle, Inc. Learn more at zentangle.com.